OpenMyLink Lifetime Deal for $29.99
For a limited time, OpenMyLink is offering a Lifetime Deal on their Big Agency plan. This is normally $459.99 per year but you can now get this for $29.99 so don't miss out on this deal and get it now.
Where you can shorten long links into a smart links that you can use to monitor clicks and optimize your marketing campaigns. Includes geotargeting, device targeting, a powerful dashboard, supports custom domains, Splash & Overlay Pages, Bio page creator, Bundles & Link Rotator, Private Service, URL Bookmarking System with Bookmarklet, Anonymous User History, Geo-targeting & Device Targeting System and much much more.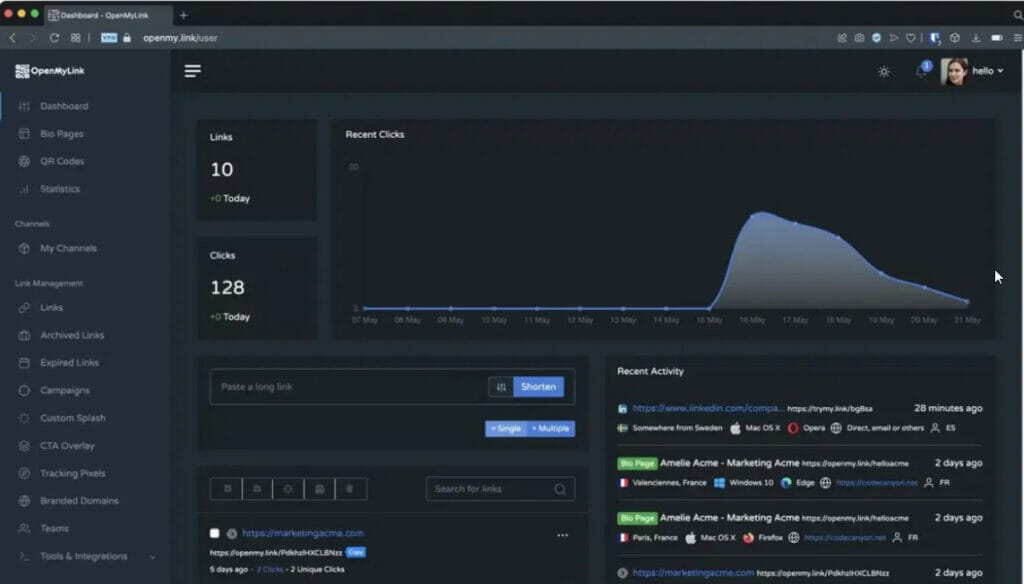 Features:
Smart Targeting: Target your customers to increase your reach and redirect them to a relevant page. Add a pixel to retarget them in your social media ad campaign to capture them.
In-Depth Analytics: Share your links to your network and measure data to optimize your marketing campaign's performance. Reach an audience that fits your needs.
Digital Experience: Use various powerful tools increase conversion and provide a non-intrusive experience to your customers without disengaging them.
Custom Landing Page: Create a custom landing page to promote your product or service on forefront and engage the user in your marketing campaign.
CTA Overlays: Use our overlay tool to display unobtrusive notifications, polls or even a contact on the target website. Great for campaigns.
Event Tracking: Add your custom pixel from providers such as Facebook and track events right when they are happening.
Team Management: Invite your team members and assign them specific privileges to manage links, bundles, pages and other features.
Branded Domain Names: Easily add your own domain name for short your links and take control of your brand name and your users' trust.
Robust API: Use our powerful API to build custom applications or extend your own application with our powerful tools.
QR Codes: Easy to use, dynamic and customizable QR codes for your marketing campaigns. Analyze statistics and optimize your marketing strategy and increase engagement.
Bio Profiles: Convert your followers by creating beautiful pages that group all of your important links on the single page.
Plan inclusions:
Unlimited URLs allowed
Unlimited Clicks per month
Forever Data Retention
Custom Aliases
Geotargeting
Device Targeting
Unlimited Bio Profiles
Unlimited QR Codes
Unlimited Custom Splash
Unlimited CTA Overlay
Unlimited Event Tracking
Unlimited Team Members
Unlimited Branded Domains
Channels
Campaigns & Link Rotator
Multiple Domains
Custom Parameters
Export Data
Developer API
URL Customization
Advertisement-Free
Don't miss out on another great lifetime deal. Subscribe now!
Share this with awesome lifetime deal on Social Media