USE VIDREPURPOSER TO CREATE MORE VIDEO CONTENT
VIDREPURPOSER is a tool to create new unique videos using existing content
The realm of marketing and lead development has come leaps and bounds as compared to what it used to be a decade or so back. These days, when you think of marketing and recruiting new customers or accessing new client bases, the first means that pops into mind to achieve this through is social media. The advent and growing popularity of the internet has changed the way businesses market a product or service to attract customers, and in order to be successful, it is necessary to keep up with the trends that reap the most rewards as you do not want to be wasting precious resources on advertisement that is not actually achieving its goal.
While the likes of Facebook ads, YouTube channels, and SEO optimized blogs are frequently used by marketers to gain traction, the truth is that these methods are quickly becoming ineffective due to the utter abundance of people using these means. With so many people using the same few strategies, it is becoming increasingly difficult to stand out in a crowd. However, studies and surveys suggest that using videos that are equipped with valuable content on landing pages and websites is arguably one of the most effective ways of turning leads into customers.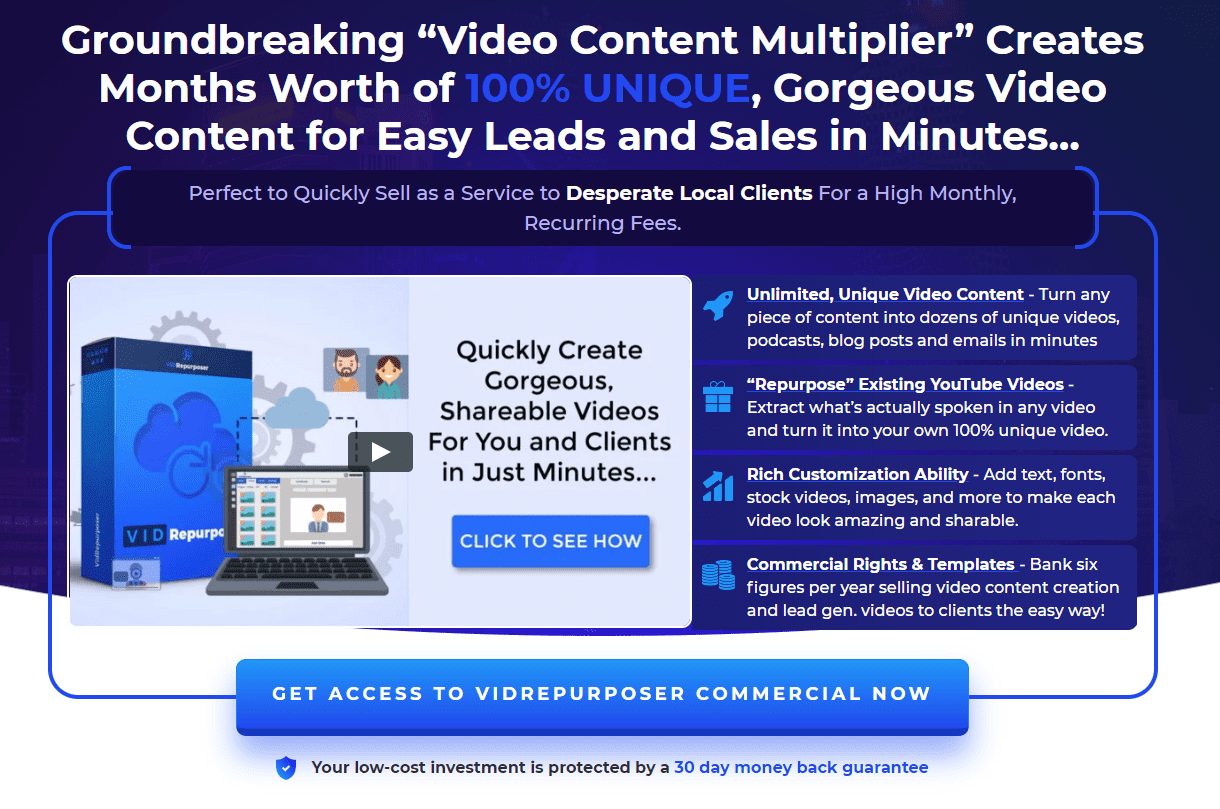 THE AGE OF VIDEO
Videos tend to grab the attention of the customer, deliver information in a digestible and interesting manner, and show people that you are putting in a considerable effort for their viewing pleasure. But that is where the problem lies: pumping out video content that isn't repetitive and has substantial value is a time consuming and tedious process and is often unsuitable for most people. So how can you keep posting new, unique videos pertaining to your services without burning yourself out? Here is where Vidrepurposer comes in to save the day.
REPURPOSE AND REWARD
Vidrepurposer is an online cloud-based tool that allows you to 'repurpose' your old video, audio, or even written files and turn them into completely new content which you can use in videos, blogs, and even podcasts for the purpose of attracting and generating leads. All you have to do is launch the online repurposer, upload or enter the URL of the video, audio, or written content that you wish to repurpose, customize the video according to your liking, preview it, and then post it wherever you wish in whatever form you want- video, audio, or even text.
When it comes to customization, Vidrepurposer allows you to add images, edit text, edit fonts and colors, and basically manipulate the video enough so that you can make it truly your own. Unique content is key when it comes to ensuring that you never lose the customer and are able to attract leads and with Vidrepurposer, you can spin existing material in a way that is original and different from the source.
y using such a tool, you can multiply your existing content in a matter of minutes without having to fuss about creating new posts and videos every single day, a feat that is almost impossible yet almost essential in this day and age if you are to succeed amongst the competition.
Don't miss out on another great lifetime deal. Subscribe now!
Share this with awesome lifetime deal on Social Media