Affilifunnels is a user-friendly cloud-based web software designed to take away the initial stress of creating your own profitable digital product funnels and allowing you to sell through them by choosing from a library of hundreds of done-for-you products. All of these come with a few mouse clicks, without a website and technical skills.
The online digital space is one of the perfect places to make a passive income. Unlike traditional systems, where the only place you can promote your products is in a store,  the online eCommerce economy allows you to distribute your products quickly and conveniently. Hosting your business on the cloud, and making money whilst you sleep is catching the attention of many entrepreneurs and employees who no longer feel  stuck in their 9-5 job. Building your own online business and brand takes a lot of effort but there are tools to help you along the way.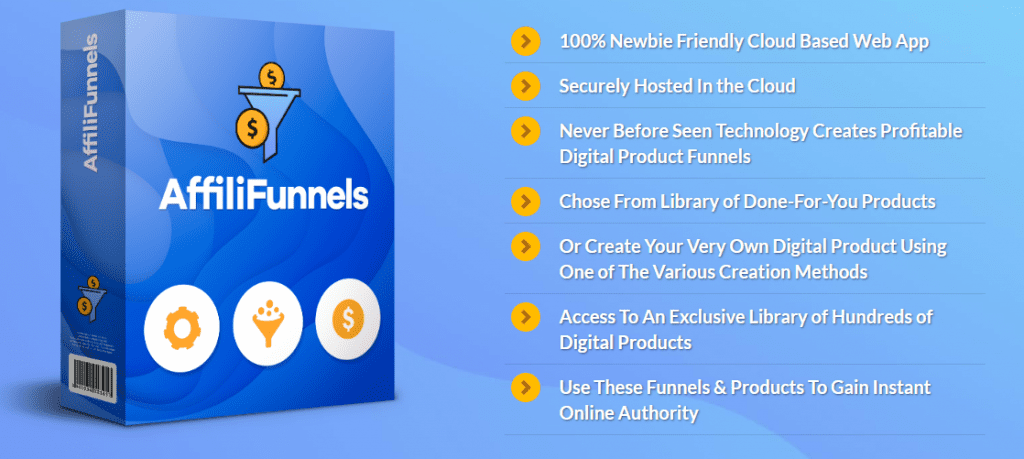 Specifically, you get access to a squeeze page builder that allows people opt-in to view your page. Affilifunnels also allow you to design these pages with amazing responsive templates which saves you the cost and time of web development. It is also a fast way to build your mailing list as your squeeze page comes with a feature that culls email addresses. All of these can be done at your convenience and also built to suit your style.
You also get access to creating your digital product as fast as possible, allowing you to convert articles into products, creating products from uniform resource locators or simply choosing from the wide array of products already available on the database.
The fastest way to sell products online is by having a sales-funnel. Affilifunnels creates a specific sales-funnel for the specific product you chose or created earlier. It allows you to get paid when customers purchase the product through your funnel. It allows you to redirect all traffic to an affiliate order and most importantly allows you to integrate PayPal (with more options in line of being integrated soon) into your sales funnel thereby ensuring seamless payment. 
It takes just a few steps to get started. You never get stuck with online training material and help available. After choosing the method to create the product, you create the funnel, add product, add affiliate links, payment details, and tap into the traffic sources to get traffic into your sales funnel. Tada! You're making a profit. 
You should give this sharp edge platform a try and yield turnarounds in no time on your business products.
Don't miss out on another great lifetime deal. Subscribe now!
Share this with awesome lifetime deal on Social Media