SQRIBBLE, the only creator tool you will ever need to creating awesome eBooks
While the modern world has its perks, there is little doubt in the fact that it is also incredibly fast paced. There is so much to do in such little time, especially if you are in a field as competitive as business or the marketing industry. There is no limit to the innovation that can be achieved using modern technology and it takes real effort and investment in terms of time and resources to ensure that you remain on top of your competition by developing stronger relationships with your customer base or target audience.
One of the ways through which businesses try to interact with their audiences and give them more content is eBooks. eBooks and white papers have become somewhat of a necessity when it comes to building lists, attracting leads, marketing services and products, and selling content to customers. But with so many of them out there, to make sure that your customers will be willing to buy your eBook or give it a read is to make sure that yours stands out in the crowd. A dull and boring looking eBook will not engage your customers and will likely be a waste of time and resources. Besides, who has the time to create an entire eBook from scratch anyway, unless you are willing to spend hundreds to thousands of dollars a year over freelance developers and content writers?
But no need to fret, as Sqribble is here to solve all your eBook problems.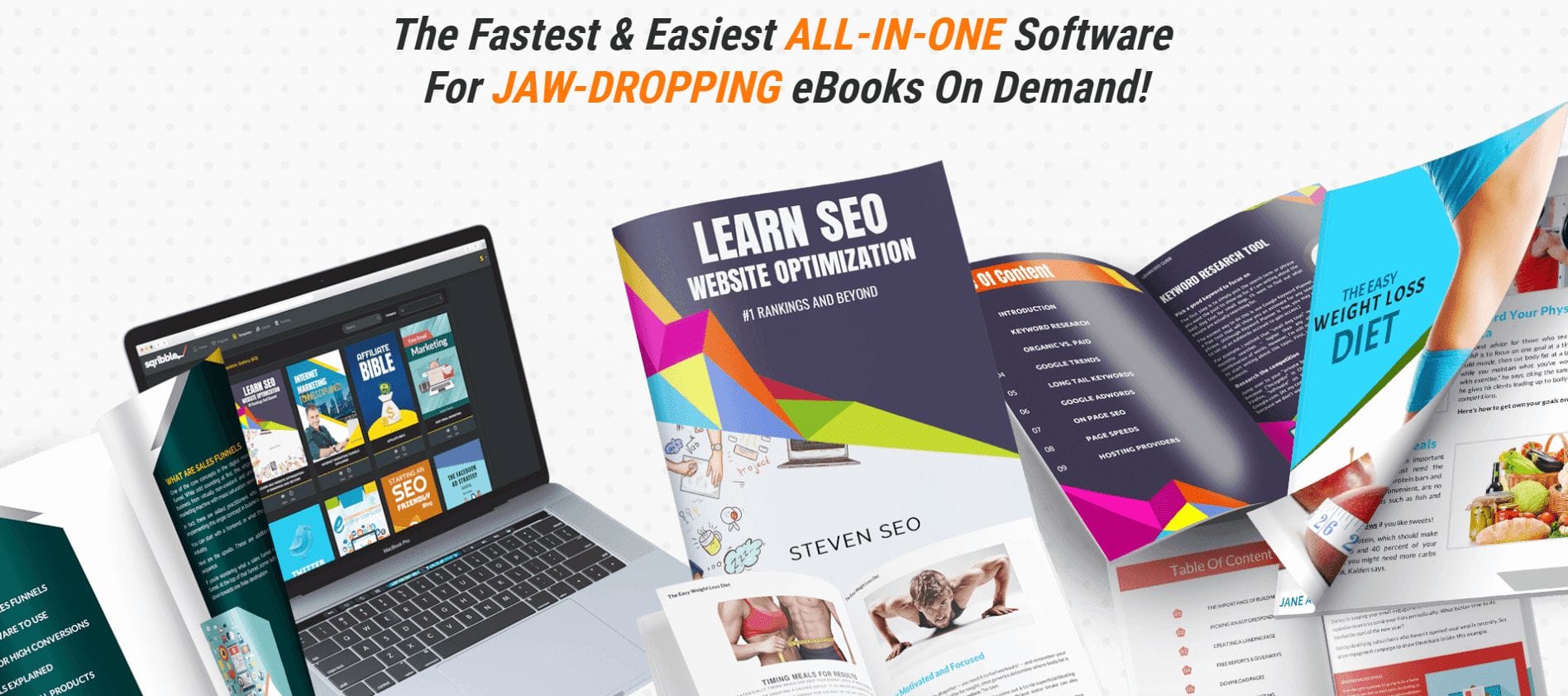 SQRIBBLE: THE ULTIMATE POINT AND CLICK EBOOK CREATION PLATFORM
Through this cloud based platform, you can create professional looking eBooks in the matter of a few minutes without having to fret over how to develop the site or what content to put in. Here are a few things that Sqribble does for you to make your eBook creation experience a breeze:
Templates
Upon purchasing and launching Sqribble (which, by the way, you do not have to download as it operates on the cloud), you begin by choosing from 50 or so professional templates that have been designed by skilled designers and developers. You can select the template best suited for business by opting for the correct niche from the 15 categories that Sqribble offers or by searching using a keyword.
Content
After selecting your template, you have to fill it with content. If you are not someone who loves to write or wants to spend hundreds of dollars on a freelance writer, Sqribble offers to automatically fill the content for you. You simply need to enter a URL or upload your own document from which Sqribble will automatically extract content. You can also fill it up manually if you are feeling creative.
A host of automated features
Sqribble also automatically generates a table of contents, headers and footers, and page numbers for you so you don't have to worry about formatting the entire document. If you do want to edit it, however, you can change it around or do it manually as well.
Customize
If you want, you can also customize the various features of the eBook by changing the color scheme, adding pictures, picking content from the in site content resource bank, adding or deleting text boxes and what not, so that the eBook is tailored down to exactly what you desire.
Generate and publish
After you are done adding all of the elements, you can simply hit the generate button to generate your automatic eBook and then click publish to put it out on the internet for instant exposure. Voila: you have made a professional eBook with minimal effort and headache in a matter of minutes!

Don't miss out on another great lifetime deal. Subscribe now!
Share this with awesome lifetime deal on Social Media