STOCKOCITY 2 is a collection of lifetime stock videos
As times change and we move into a modern society, so does the way the various Industries operate. The modern world is all about connectivity and communication, primarily due to that advent and immense popularity of the internet which has given the entire world a unified platform through which anyone can reach out to any part of the world with extreme ease. For someone belonging in the business industry, it is important for them to gauge what their customers feel is the most appealing form of marketing to them, especially because we are moving towards an extremely customer-centric era.
When it comes to marketing, the traditional text-based methods have largely become redundant and ineffective because of overuse and overexposure, as well as the fact that there are much more attractive forms of advertising out there, such as video. Studies suggest that video content is absolutely essential if a business wishes to remain on top of their competition by drawing in more and more customers.
Unfortunately, not everyone can afford to arrange for the resources required for the development of unique and original videos, or even bear around 50 to 200 dollars most services demand for a single stock video. But there is no need to fret, as Stockocity 2 is here to solve all of your video content related problems in the form of a relatively inexpensive and innovative solution that will make sure you never have to turn to any other source for your stock videos ever again.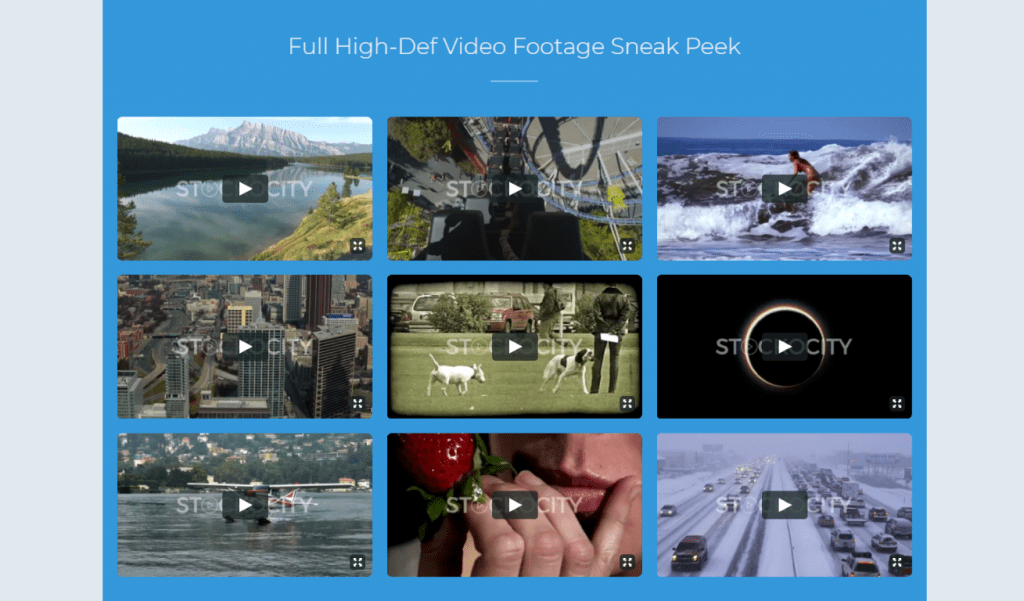 WHY STOCKOCITY?
Why exactly should you choose Stockocity over all of the other resources that claim to offer the best stock video solutions? Here are just a few reasons why Stockocity leaves behind all the competition in terms of quality, quantity, and cost-effectiveness:
The ultimate package
With a subscription, you get access to over 6000 FHD stock videos that you can access and use whenever and however you would like. Stockocity uploads over 75 new high definition stock videos every month for up to 2 years for your brand to use free of royalty or any additional costs apart from the one up front payment they ask you to make.
Cost-effective
If you have been in the business long enough, you may have already become one of those people who has paid up to a hundred dollars for a single stock video. Well, you no longer have to worry about these constant payments or even monthly payments as with Stockocity 2, you only have to make a one time $67 payment that will give you access to over 7800 FHD videos over the course of the next 2 years, a number of videos that would cost you over 4000 dollars at the likes of ShutterStock or iStock!
High-quality stock videos
A major issue that plagues marketers when buying stock videos is the quality of the product, as you have to maintain a certain standard and consistency across the board. With 1920x1080 FHD videos, Stockocity 2 makes sure that you never have to think twice about the quality of the video when you take it off their collection.
Give your marketing a boost
With high definition, consistent, and inexpensive stock videos for your brand, you are bound to introduce a spark of innovation and appeal into your marketing campaign for your business that will give you the launching pad you to need to boost your brand in your field and expand your customer base to new regions.
Don't miss out on another great lifetime deal. Subscribe now!
Share this with awesome lifetime deal on Social Media